Alltricks, a French e-commerce site founded in 2008, asked us to collaborate in the long term to provide a multilingual translation solution for their website. We take a closer look at this collaboration.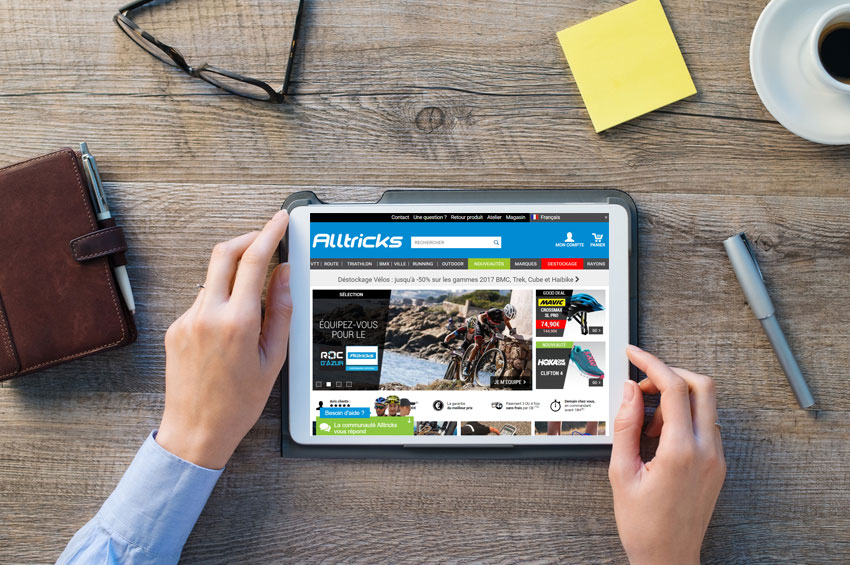 Alltricks is a French e-commerce site founded in 2008 that specializes in bikes, bike equipment and running accessories, and recently opened an outdoors department. In 2014, Alltricks became the leading online bike shop in France. The following year, the site was rated 29th in the top 100 of French e-commerce sites, carried out by E-commerce Mag. The company opened its first physical store in late 2015. After 9 years in business, the site works with 600 brands, offers 60,000 products and turned over 53 million euros in 2016.
Challenges of translating the Alltricks website
Alltricks asked us to take on the long-term, multilingual translation of its website. The challenge: to guarantee technical expertise and impeccable terminological consistency, while keeping translation costs low.
The main features of the Alltricks site are:
An enormous product catalogue (thousands of items)
A constantly evolving catalogue, depending on stock
The seasonal nature of some products
Very similar product descriptions in certain product ranges (very high repetition rate)
Peak times: sales and Christmas
The site had only been translated into English, which meant that its conversion rate was lower than it could be. A non-multilingual site does not create trust among your potential overseas customers, who prefer to opt for a website in their native language.
Our e-commerce website translation solution for Alltricks
To begin with, we proposed to translate just a part of the Alltricks website (homepage, categories, best-selling products, short descriptions, etc.) into one language, Spanish, so that they could see their return on investment before continuing.
Following the translation of the website, sales in Spain increased significantly. The client then decided to give our team the green light to translate the content into German and Italian.
◆ Preparing an e-commerce website translation
Sufficient preparation work prior to beginning the project is essential for a quality translation. First, our teams created a glossary with technical terms and had it validated by the country managers of the target markets. We then met with the Technical Director of Alltricks to work out the best content extraction and integration solution (flux, XML, CSV, Excel, html, Milega API, etc.). Finally, rates that took into account the high volumes of words on the Alltricks site were put in place. Repetitions were not charged.
◆ Consistent terminology throughout the site content
On this type of website, with a high volume of words, a lot of content is repeated, and the same technical terms often appear several times. To guarantee harmonized content, we use technical tools such as translation memories and term bases, which automatically suggest the terms in the glossary for impeccable consistency.
◆ Long-term translation and collaboration
As the site is updated regularly, we receive new content to translate periodically in all 3 languages. We collaborate with the Alltricks marketing department constantly to update our glossaries, propose new translation strategies, etc.
« To assist us in our internationalization process, we entrust the translation of our product catalogue into Spanish, Italian and German to Milega. The Milega team has proven able to adapt to our needs according to the season, and the translation quality never falters.

Today, Alltricks makes 20% of its revenue outside France. And this figure is constantly growing, which shows that the partnership works.»

Jeremy Durand, Responsable coordination traductions.